Podcast: Play in new window | Download
Subscribe: iTunes | Android | Email | RSS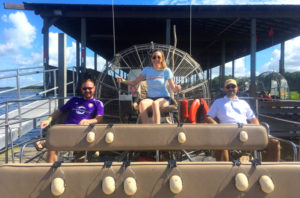 The gang took their spouses on a visit down to WILD FLORIDA for an airboat ride and found much more than they anticipated.  Jared, the general manager, showed them all around the property and allowed them to hold a gator, feed one named Bone Crusher, and pet a sloth. Things you never expected to do when you woke up that morning.
Brent & Jeremy also get into the news, which includes an interesting tale involving Four Loko, a boat, and missing pants, a mousetrap and a femailman (yes that is spelled correctly), and butt lifts purchased with stolen money.
Don't forget to subscribe to the show and write us that nice 5-star review, just
CLICK HERE
.
iTunes ☛ apple.co/2chV8ET
Stitcher ☛ bit.ly/1T9mEBS
Google Play ☛ bit.ly/2caICmW
Facebook ☛ fb.com/floridaissinking
Instagram ☛ instagram.com/flissinking
Twitter ☛ twitter.com/flissinking
Enjoy – or don't!